Confession #1:
It has been years since I've participated in Operation Christmas Child. As in, my daughters were just a twinkle in their Daddy's eye the last time I picked out gifts for the shoe box. But this year, they are so conveniently located in The Gathering Place at church that it was difficult to forget to grab one.
Confession #2:
Even so, I still had my reservations. Anyone who knows me knows that I am a cheapskate thrifter. I very rarely buy anything new unless I have researched and discovered there is no pre-owned version of it. (I am a hippie at heart, y'all) And of course I couldn't send used toys, coloring books, toiletries (gross!) or clothes to the sweet child who will receive this gift, so it meant buying new.
I overcame my misgivings, my girls chose to buy for a girl, and off we went to Target. On the way, we discussed 2 Corinthians 9:7... "God loves a cheerful giver." Hazel, my 6 year old, told me that means that when we decide to give something, God loves it when we are happy to give.
Let's pause for a Proud Mom Moment.
The girls made a beeline for The Dollar Spot. They had so much fun searching for the just the right gifts.
Confession #3:
If you take pictures of your kids shopping in The Dollar Spot, other shoppers give you nervous glances.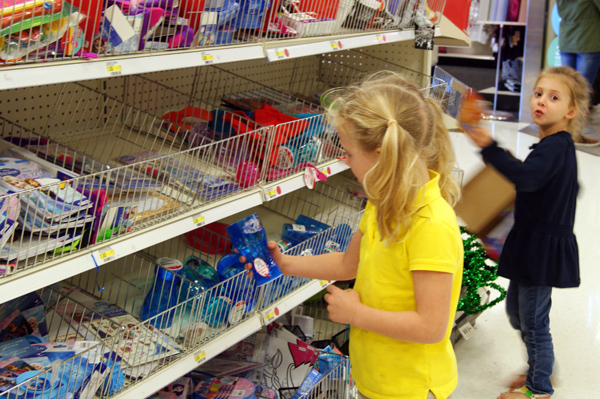 It's important to note that somewhere between The Dollar Spot and the toy department, if you are 5 years old, it's necessary to sit in the middle of an aisle and count all the items you are buying so far.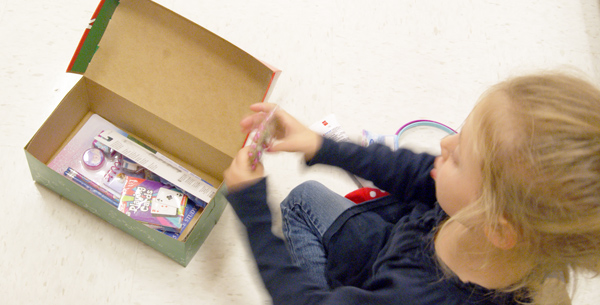 I ended up filling the shoe box for a measly $17.
Confession #5:
Sometimes buying new isn't horrendous.
Confession #6:
I kept thinking the girls would give me an awesome quote or two during our shopping trip. They are in a stage right now where every other sentence out of their mouths is funny.
But the only thing Annabel kept saying was, "This girl is so lucky!"
My first thought was, Oh honey, no, this girl is not lucky. But it dawned on me - she may not be "lucky" to Americans due to lack of material comforts, but she actually is, in a way, fortunate.
Many areas of the world haven't even heard the name of Jesus, but because of these shoe boxes, because of our little shoe box filled with goodies, she will have the opportunity to hear, perhaps for the first time ever, that "the free gift of God is eternal life through Christ Jesus our Lord" (Romans 6:23).
---
Your shoe boxes really can transform lives.
Watch this story of a Romanian woman who received a shoe box when she was 9 years old. Why would anyone send a gift to a child they'd never met? The Bible verse on the back of the family photo would provide her answer...