WATCH THE RECAP
Watch a recap from this year's LoveLoud (September 20, 2014)...you may even see yourself or your Sunday School class!
---
Our son, Kyle, enjoys the book Pete the Cat and the New Guy. It includes a recurring phrase: "Don't be sad, don't be blue. There is something everyone can do!"
Unfortunately, there are some things that Kyle cannot fully participate in as he continues to recover from an anoxic brain injury. As a family, we strive to embrace opportunities that allow him to "do" all he can individually and that we can "do" together as a family.
We always look forward to Shandon's annual LoveLoud event and chose to serve at Meadowfield Elementary School this year. There is something that we are all called to do: to love God and love one another. This church-wide day of service is a great way to put this truth into action, and impacts the entire Midlands area in the process.
While many Shandon members were working hard to beautify the school's courtyard, Kyle was given the task of removing 'suckers' from the trees surrounding the parking lot. This was an activity that he could do both in his wheelchair and standing up. So, it was with great joy that I served side by side with Kyle, my hands over his, 'loving with loppers!'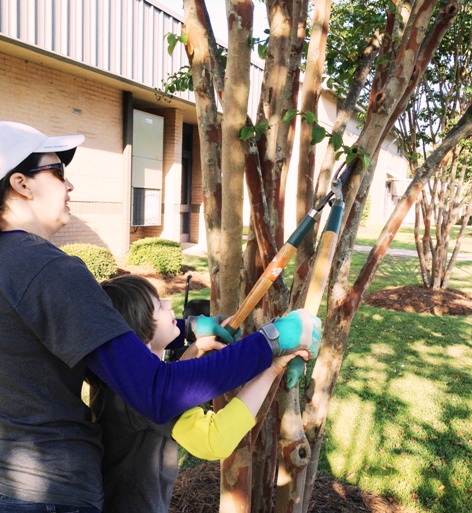 He also helped me gather and transport branches, and we even launched a few giant limbs onto the trailer. To make the experience even sweeter, I was able to catch glimpses of my husband, Ken, working together with our oldest son, Kendall.
At the end of the morning I stopped to survey the work. I imagined how the children would feel when they came to school the following Monday or how the teachers would feel when they looked out the classroom windows. Hopefully, they felt loved.
I felt thankful.
I was thankful that every member of our family could serve and that we served alongside our Shandon family!
So, "Don't be sad, don't be blue. There is something everyone can do:" Love. …LOUD!