Here's a riddle for you...
What is 28 feet high, has 55,000 lights and makes music??
That's right… LAST year's The Singing Christmas Tree!
How about this one...
What is 28 + 23 + 23 feet high with 80,000+ lights, makes music and tells the Christmas story?
Right again! This year's 25th anniversary celebration of The Singing Christmas Tree featuring THREE trees with 400+ performers, including over 200 singers!
The program this year will feature many of the great Christmas songs from recent years and a medley of wonderful songs that were part of "The Tree" back in the '80s and '90s. As always, you will feel God's presence as we worship at the manger with Silent Night.
The Singing Christmas Tree has been selected to be in a contest sponsored by The State newspaper! We have made it from the sweet 16 all the way to the "championship" round. Please vote for us! It would be quite a testimony to be able to say that The Singing Christmas Tree is the #1 Must See Holiday Event in Columbia!
It seems that every Sunday I walk away from church so grateful that God allows my family to be part of Shandon! Our family's involvement ramps up even more so as we move into the season of Christmas. Over the past weekend we had nearly 100 volunteers spend all weekend building the special set for the 25th anniversary! The music will be incredible and you will experience the lights and sounds of the season--all giving support to the most important part of Christmas: Jesus' birth!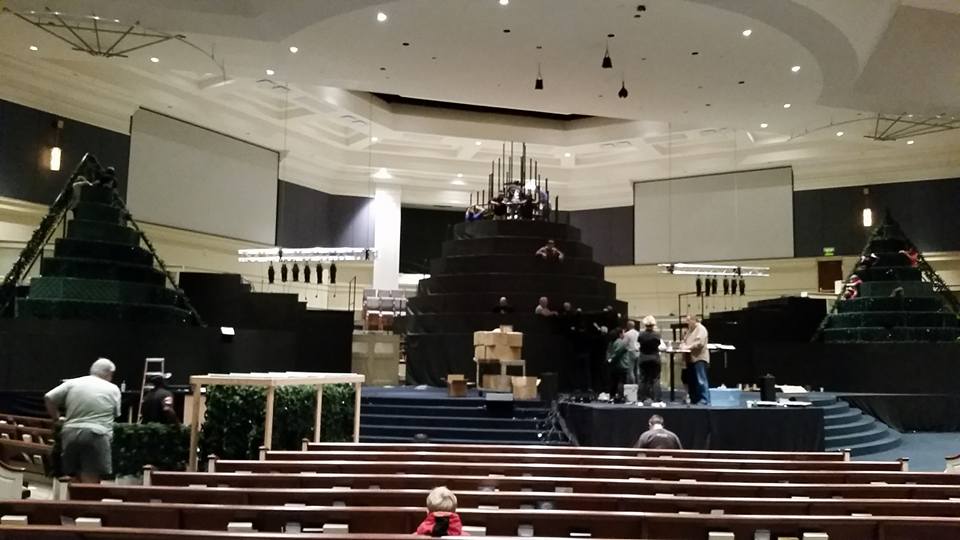 Construction of the 3 Trees, photo by Giles Phillips

Get your tickets as soon as possible by visiting www.christmasatshandon.com or stopping by the Gathering Place on Sunday before and after your worship service. We anticipate capacity crowds again this year, so don't wait!