Shandon Baptist is pleased to announce Senior Pastor
Dr. Daniel C. Dickard


Daniel, Cassie, Conrad, Kesyd, & Carolina
Dr. Dickard will continue preaching from Hebrews beginning Sunday morning, February 26, 2023, at 9AM and 10:30AM.





Search Update History (in order of most recent)
January 1, 2023 - Chairman David Duncan announced that the Pastor Search Team had reached a unanimous decision to recommend a candidate to preach in view of a call by the congregation. He went on to say: Next week (January 8), the entire team will provide an update, give highlights of our journey, and share a video introducing the candidate we are recommending. Plan to be here January 8. There will be two services following the usual schedule. On January 22, the candidate will preach in view of a call at a combined 10:30 a.m. service; followed by a vote of the congregation. Stay tuned for further events and information that will permit you to get to know the candidate and his family. Be in prayer that God's will for our future will be evident.
December 19
- Shandon family: December brought renewed energy to the team's efforts. Entering the busiest season of the year, our work and progress from October and November pressed on. We used our time to meet with candidates as their schedules allowed and are pleased with where the search stands. We pause now for a brief hiatus to celebrate the coming of our Risen Savior and return—for a time—to our families. There are meetings and work scheduled for January already to build on the momentum God has given this work. We look forward to updating you soon. Thank you for your continued prayer, support, and encouragement. Merry Christmas and Happy New Year!
November 9
- The Pastor Search Team continues to interview candidates identified by Shepherd's Staff as excellent cultural fits for Shandon. Two slates of candidates have been presented.
The first slate underwent welcome team (60 minutes) and full team (90 minutes) interviews in October. Welcome team interviews were completed last week for the second slate, and full team interviews are now underway. It is an extremely busy time when you factor in the necessary research (reading, sermon evaluations, and more) needed to prepare for these interviews, held via video conference.
Decisions on some candidates have been made by the PST after prayer, discussion, and guidance from the Holy Spirit. More decisions to further narrow the field are likely in the coming days.
Please join the team in prayer for this church, for the candidates and their families, and for the current church of the candidate that will be called by Shandon. Please also continue to pray for the team to be guided only by the Holy Spirit, that we will be encouraged by the same, and that we will be protected spiritually, physically, and emotionally. Please pray as well for the families, friends, roommates, colleagues, and others affected by the dedication we are giving to this weighty responsibility.
While there's still much to be done, and no time frame can be given or is assured, know this: our team has seen and felt God working, and He is even now.
October 2 - Chairman David Duncan shared with the congregation that our consultants at Shepherd's Staff have reached out to around 8,000 nationwide pastoral contacts with one question: "Are you interested in being the next senior pastor at Shandon Baptist Church, or do you know somebody who might be?" Roughly 1,400 people then reviewed the position description. Between congregational recommendations and prospects identified by Shepherd's Staff, around 170 candidates have been identified so far. They have referred to our position as desirable, and that we have a "candidate-rich environment." Most have been eliminated for one reason or another. Shepherd's Staff is now sending handfuls of the candidates identified as most closely matching our ideal candidate profile to our team for further vetting and serious consideration. Interviews are underway. As the most sensitive portion of our work is upon us, pray that God reveals His will to us, trust Him in it, and leave our team to its work. Please respect the privacy and discretion required of this process, and please do not ask us questions we can't—and shouldn't—answer.

August 21 - Members of the Pastor Search Team updated the congregation via video. The discovery weekend by our consultants from Shepherd's Staff was extremely beneficial for them: they met with more than 120 leaders and staff serving throughout Shandon. They said the congregation's heart for serving the Lord and this church was clear, and they left feeling God is at work here. Our position is attracting a lot of attention, from you all and from the outside. Recommended candidates from the Shandon family—along with several recruited nationwide by SS—are getting a detailed, multi-step vetting that is fair and objective. SS will soon begin sending our team groups of candidates for interviews. As our team's work enters a new phase, your prayer and encouragement mean more than ever. Pray that the Spirit moves in and through the detailed work SS and our team are undertaking. Pray for our church, its great staff, and our team. Worship together. Study God's word. Give obediently. We will see you Sundays AND Wednesdays.

June 26 - Chairman David Duncan informed the congregation that the Pastor Search Team has unanimously determined to contract with The Shepherds Staff to assist in the pastor search. The Shepherd's Staff Team will bring expertise to the Senior Pastor search with a thorough and effective vetting process, performing comprehensive background checks, and personality assessments, and serving as a general consultant to our search process. They will provide our PST with the information needed to thoroughly evaluate a candidate's possible fit in our church body.

May 15 - Chairman David Duncan let the congregation know how to communicate with the PST. There is a process in place on this webpage for members to digitally respond to a congregational survey, submit a pastoral candidate's name, or email the PST with messages of prayer and encouragement. The next drop-down menu contains links to this process and there is also a way to respond in person via boxes located in the lobby at the church.


Meet the Pastor Search Team
We, the 11 members of the Pastor Search Team, are committed to humbly seek a servant after God's heart. We firmly believe that through consistent prayer and Bible reading, in time God will lead us to whom He has ordained already to lead this congregation.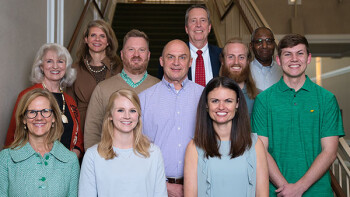 (Front to Back and Left to Right) Julie Crowder, Corey Dickinson, Mallary Williams, Laurie Auld, Jason Rapp, Mark Fisher, Nathan Hoffman, Collin Bunch, Renee Brooks, Chairman David Duncan, John Hartley
There are a combined 209 years of membership among us, and we represent many of Shandon's ministries and areas of service. Each of us holds this church dear to our hearts for many different reasons.
Please know that:
We stand fully united in our desire to seek God's will in this process so that, together, our church may glorify Him and be of faithful service to His Kingdom in Columbia, our state and nation, and around the world.

We commit ourselves not only to listening to church members but also to being as transparent as we can throughout the search process.

We love each of you and want you to know that we are taking this assignment seriously and are striving to serve both our Lord and you during this time.
Please continue to cover this process in prayer as you have since its inception. Your prayers are felt!
Let the

favor

of the Lord our God be upon us, and establish

the work of our hands upon us;

yes, establish the work of our hands!
- Psalm 90:17