Let the

favor

of the Lord our God be upon us, and establish

the work of our hands upon us;

yes, establish the work of our hands!
- Psalm 90:17
This page is a place for the membership of Shandon Baptist Church and interested parties to interact with the ongoing work of the Pastor Search Team. Here, you can see who we are, get updates on our progress from the chairman, and interact with us by sending encouragement or submitting qualified candidates to be considered as Shandon Baptist's next senior pastor.

The Pastor Search Team is seeking God's will in and through this process. Because we know you are an integral part of this transition that lies ahead, we humbly ask for your prayer and support during this time. Please share anything you would like us to know through the links below.
Meet the Pastor Search Team
We, the 11 members of the Pastor Search Team, are committed to humbly seek a servant after God's heart. We firmly believe that through consistent prayer and Bible reading, in time God will lead us to whom He has ordained already to lead this congregation.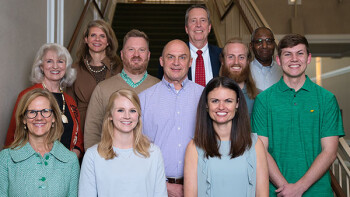 (Front to Back and Left to Right) Julie Crowder, Corey Dickinson, Mallary Williams, Laurie Auld, Jason Rapp, Mark Fisher, Nathan Hoffman, Collin Bunch, Renee Brooks, Chairman David Duncan, John Hartley
There are a combined 209 years of membership among us, and we represent many of Shandon's ministries and areas of service. Each of us holds this church dear to our hearts for many different reasons.
Please know that:
We stand fully united in our desire to seek God's will in this process so that, together, our church may glorify Him and be of faithful service to His Kingdom in Columbia, our state and nation, and around the world.

We commit ourselves not only to listening to church members but also to being as transparent as we can throughout the search process.

We love each of you and want you to know that we are taking this assignment seriously and are striving to serve both our Lord and you during this time.
Please continue to cover this process in prayer as you have since its inception. Your prayers are felt!
Search Updates
August 21 - Members of the Pastor Search Team updated the congregation via video. The discovery weekend by our consultants from Shepherd's Staff was extremely beneficial for them: they met with more than 120 leaders and staff serving throughout Shandon. They said the congregation's heart for serving the Lord and this church was clear, and they left feeling God is at work here. Our position is attracting a lot of attention, from you all and from the outside. Recommended candidates from the Shandon family—along with several recruited nationwide by SS—are getting a detailed, multi-step vetting that is fair and objective. SS will soon begin sending our team groups of candidates for interviews. As our team's work enters a new phase, your prayer and encouragement mean more than ever. Pray that the Spirit moves in and through the detailed work SS and our team are undertaking. Pray for our church, its great staff, and our team. Worship together. Study God's word. Give obediently. We will see you Sundays AND Wednesdays.

June 26 - Chairman David Duncan informed the congregation that the Pastor Search Team has unanimously determined to contract with The Shepherds Staff to assist in the pastor search. The Shepherd's Staff Team will bring expertise to the Senior Pastor search with a thorough and effective vetting process, performing comprehensive background checks, and personality assessments, and serving as a general consultant to our search process. They will provide our PST with the information needed to thoroughly evaluate a candidate's possible fit in our church body.

May 15 - Chairman David Duncan let the congregation know how to communicate with the PST. There is a process in place on this webpage for members to digitally respond to a congregational survey, submit a pastoral candidate's name, or email the PST with messages of prayer and encouragement. The next drop-down menu contains links to this process and there is also a way to respond in person via boxes located in the lobby at the church.
Candidate's Name Submission and Pastor Search Team Communication
The following link will take a candidate directly to the Shepherd Staff portal where a resume can be uploaded. A link to this webpage may be copied and sent to a candidate for them to personally submit a resume.
Submit An Application to Shepherd Staff

A name and/or resume can be submitted directly to the Pastor Search Team by using the following email link. A resume can be attached to the email.
Submit A Candidate's Name to the Pastor Search Team

Pastor Search Congregational Survey
Email A Message to the Pastor Search Team
If you prefer, hard copy forms are available and can be placed in secure boxes located in the lobby of the church.