Dinner | 5:00PM
Make weekly dinner and childcare reservations and view the menu or volunteer to serve by clicking the button below.

Midweek for Kids | 6:00-7:15PM
Preschool
Preschoolers will make new friends and connect with other kids while learning more about who God is and how he wants us to connect with Him. Register below to make reservations.
Kids
Kindergarten-5th graders will have the opportunity to grow in God's word while connecting with others. This time will be spent playing games, growing in Biblical truths, scripture memory, discipleship, prayer, and tools for evangelism. A focus on the Gospel, as well as ways to talk about the Good News at school, on the ball field, and in their neighborhoods, will equip them as they influence their friends. Kids will connect with others, connect with God and His word, and learn to engage and connect with the world as they impact His Kingdom. Make weekly reservations here.

Midweek for Students | 6:15-7:15PM
Student Worship Service
Midweek is a gathering of middle school and high school students. During this time, students will have the opportunity to fellowship with each other, play games, worship Jesus together, and gather in The Vista (C240) for large group discipleship training and lessons from the Bible.

Midweek for Adults | 6:15-7:15PM
pastor's Bible Study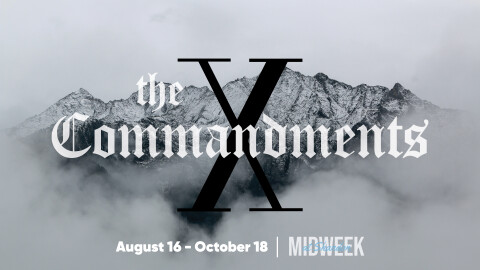 Join us in the gym as Pastor Daniel will be teaching a new midweek sermon series, 10 Commandments.

Women's Ministry Bible Study
Join us in The Hub as Donna Brickle will be leading the Sermon on the Mount Bible Study by Jen Wilkin. This study helps group members learn what it means to be a citizen of the kingdom of Heaven according to Jesus' Sermon on the Mount through a 9-week study. Teaching videos are key to the understanding of this study.
Matthew's gospel opens with three chapters containing Jesus' longest recorded message – a sermon given to His disciples early in His ministry to articulate what the life of a Christ-follower would look like. Both practical and profound, the sermon asks of us the same questions it posed to its original hearers: How should a disciple relate to sin? To others? To the Law? How does a disciple think, speak, and act? What is the nature of true righteousness? We can't wait to dive into this study together!
Men's Ministry Bible Study

Join us for a Men's Ministry bible study in 1 Samuel in room C124 led by Rick Helmadollar and Ryan Bailey. The commentary will be $30 and will cover the entire study.

"The Old Testament book of 1 Samuel records the story of three important leaders in Israel's history: Samuel, Saul, and David. The lives of these flawed men showcase God's gracious response to ancient Israel's leadership crisis, offering valuable lessons related to why leaders fail, the impact this failure can have on God's people, and what it means to model godly leadership―even today.
In this accessible commentary, John Woodhouse shows how 1 Samuel reveals the importance of true leadership and the character of the godly leader. More significantly, this volume points forward to Jesus Christ, the fulfillment of God's promises to his people and the only perfect leader the world has ever known."
life on mission study - practical tips for kingdom living
What does it look like for us to live our life intentionally for the Kingdom of God? What are the principles we need to learn, the rhythms we need to live out, and the commands we need to follow in order to make disciples who make disciples where we live, work, and play? How do we teach our children to be on mission and how do we spur one another on to good works, the best being leading others to follow our Lord?
Join Steve Turner for this 8-week boot camp into living life on mission, in room B103. This session is for all ages and will be full of practical tips and discussion around the table as we seek to obey the command of our Lord to GO make disciples.
Divorcecare
Divorce Care is a safe place where caring people come alongside you to help you heal from the pain of separation or divorce and give you hope. Sessions will be in-person only and will run August 16 - November 15 on Wednesday Nights, from 6PM-8PM in room B106.
griefshare
It hurts to lose a loved one, but you don't have to go through the grieving process alone. Led by people who understand what you're going through, GriefShare support groups provide resources to help you recover from your loss and look forward to rebuilding your life. Sessions will be in-person and online and will run August 16 - November 15 on Wednesday Nights, from 6PM-8PM in room C121.
prayers for prodigals
There is a pain you feel when a loved one strays from the faith. It is so very real and hurtful. There also can be a sense of isolation and shame. We are beginning a group to bring prayer, support, and hope to those who are walking this road. In this setting, you can build community with fellow believers around sharing, His Word, and the book, "Reaching Your Prodigal" from Phil Waldrep.

Prayers for Prodigals, led by Ed Stewart, will meet Wednesdays at 6:15PM (or Tuesdays at 7PM for those who cannot attend Midweek) in room B119 beginning September 6 and will run through December 13. The cost for the book is $15.
Choir/Orchestra Rehearsal | 6:15-7:30PM